LINDBERG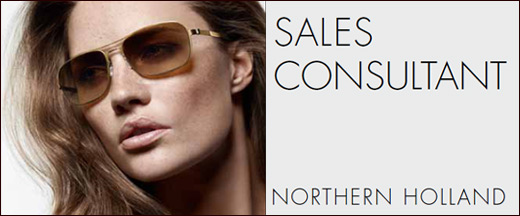 We are looking for a highly talented and powerful sales consultant to service our partners in the Northern part of Holland.
You are expected to live in the area or in Amsterdam. We expect you to be fluent in Dutch as well as having good English skills.
You will be working on an independent basis representing the Danish global success, LINDBERG eyewear. Furthermore, in cooperation with our sales and marketing department you will attend exhibitions and arrange seminars for our authorized dealers.
You have a highly developed sense of design, fashion and technology. You are an independent and determined person and you display strength through self-confidence. You can handle life "on-the-road".
We go to great lengths to support and communicate with our sales consultants, as well as we organize seminars for our sales team counting energetic and skilled sales consultants from all over the world.
We can offer a design concept in great demand, an innovative sales organization as well as good earning possibilities.
Please send your application, CV and references to LINDBERG, Bjarkesvej 30, DK-8230 Aabyhøj, Denmark, for the attention of Peter Warrer, Sales and Marketing Director, by Wednesday 6 October 2010.
Please attach a photo of yourself.
LINDBERG designs, develops, manufactures, markets and sells LINDBERG eyewear which has received a number of the world's most prestigious design awards. We export innovative, custom-made eyewear to more than 80 countries. LINDBERG's 2010 collections are the most succesful in the history of the company.